The 2023 Subaru Love Promise Customer and Community Commitment Award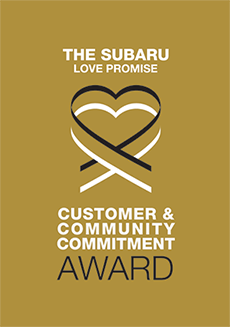 We've been nationally recognized for our dedication to our customers, our community, and the Subaru Love Promise.
We're honored to receive the 2023 Subaru Love Promise Customer and Community Commitment Award. This award nationally recognizes elite Subaru retailers who provide an exceptional customer experience at every interaction with Subaru. These retailers have also demonstrated an outstanding commitment to supporting passions and causes in their local communities in important areas such as the environment, community, health, education, and pets.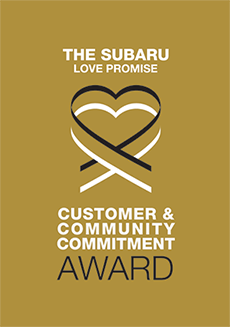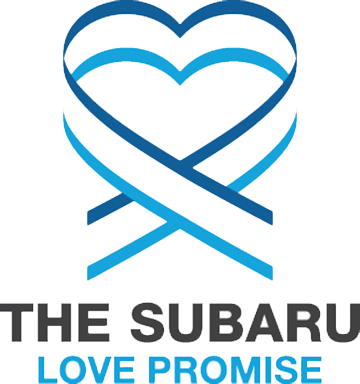 What is the Subaru Love Promise?
Subaru and our retailers believe in making the world a better place and the Subaru Love Promise is our vision of respecting all people. This is our commitment to show love and respect to our customers and to work to make a positive impact in the world.
How is Crews Subaru of Charleston dedicated locally to the Love Promise?
The Subaru Love Promise was a part of the Crews Subaru DNA from the very beginning, starting at the top with owner Robert Crews and GM H. R. Hicks. A firm commitment each and every day to do what is right for our community and to give back at every opportunity. Our Love Promise can be seen in various partnerships with local charities and non-profits. We're grateful for the opportunity, not only to be a part of our community, but to serve it as well.
Charleston Animal Society, Hallie Hill Animal Sanctuary, Pet Helpers, Dorchester Paws, Berkeley County Animal Shelter
TerraCycle, Charleston County Parks & Recreation, SC Aquarium Turtle Rescue and release, Coastal Conservation League, Save the Light - Morris Island Lighthouse, Daniel Island Park Day, Palmetto Pride Beach Sweeps
Nexton Elementary School, Trident Literacy Program, Cradle to Career Initiative, Hanahan Elementary, Pepperhill Elementary, Wando High School, Charles Towne Montessori, Pattison Academy, Sullivan's Island Elementary, Charleston County Public Library - Friends of the Library
One80 Place, Ronald McDonald House of Charleston, Carolina Youth Development Center, East Cooper Meals on Wheels, Dragon Boat Charleston, Surfer's Healing for Autism, Charleston Moves, East Cooper Community Outreach, Low Country Food Bank, Meals on Wheels of Charleston, Palmetto Military Support Group
MUSC Children's Hospital & MUSC Hollings Cancer Center, Leukemia and Lymphoma Society, Ryan White Wellness Center, American Red Cross Blood Drives, Camp Happy Days, Make A Wish SC, MUSC CDAP programs, Favor, Shawn Jenkins Children's Hospital, She Tris Triathlon Series
Love Promise Stories from Crews Subaru of Charleston
Subaru and Crews Subaru of Charleston believe in making a positive impact on the communities in which we live and work. We uphold that belief through our Love Promise Community Commitment. Every month, we select inspiring stories from customers and partners from around our area who strive to support our collective commitment and feature them here
Crews Subaru answers our call. Again - Kay H
Last month while meeting with our team about their Presenting Sponsorship of the huge Paws in the Park event, Ken French from Crews Subaru, overheard talk about an upcoming new event. At the time we were planning a monumental event VAX-A-PALOOZA a lifesaving initiative to vaccinate and microchip thousands of animals in our community. With over 250 volunteers and staff to feed, we were scrambling to put together box lunches for everyone. Ken thought they needed a hot meal on a cold February day. So he made some calls. Without the support of Crews Subaru, we would not have been able to provide the hot nutrition our team needed to provide the services to hundreds of families and their pets. In addition to the mega vaccine and microchip clinic event, the other half of VAX-A-PALOOZA was the 24-hour campaign encouraging pet owners to pledge to keep their pets vaccinated against deadly diseases. The campaign ran from 7:00 PM EST Friday through 7:00 PM EST Saturday. At the conclusion of VAX-A-PALOOZA, a GUINNESS WORLD RECORDS™ title was earned with 2,226 pledges, as verified by a Guinness World Record Adjudicator from the United Kingdom, breaking the previous record of 1,867. During the day, we saw almost 2,000 animals in 8 hours, we set a GUINNESS WORLD RECORDS™ for the most pledges in a 24-hour period. We set South Carolina state records for the Most Animals Vaccinated in a Single Event, the Most Animals Microchipped in a Single Event, the Most Animals Registered in a Digital Lost and Found System in a Single Event and the Most Veterinarians Participating in a Single Event. "We want to especially thank our friends at Crews Subaru, all of the veterinarians, volunteers, and staff, who showed up, rolled up their sleeves, and provided preventive lifesaving care to 1,861 animals," President and CEO, Joe Elmore said. "These sponsors, veterinarians, support staff, and volunteers, from throughout South Carolina, North Carolina, and as far away as Boston, allowed VAX-A-PALOOZA to break a GUINNESS WORLD RECORD™ title and demonstrated the magnitude of what we can accomplish working shoulder-to-shoulder for the benefit of animals and the families who love them." Again Crews Subaru shows why they are more than a car dealer.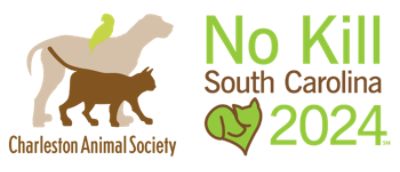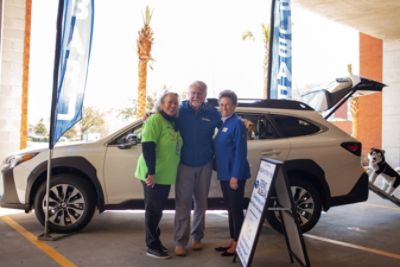 ---
Crews Subaru champions communities & helps to keep pets in their homes! - Danielle Z
When faced with difficult moments, many people must make the incredibly tough decision to re-home or surrender their pets, despite their pets bringing them love, happiness, and companionship. With owner surrender rates continuing to rise, and stray animal intakes reaching double digits daily, many animal shelters are at capacity. To help address this issue, Dorchester Paws hosted a Community Pet Day, providing valuable resources to help pets remain in their homes. Dorchester Paws planned to distribute over 73,000 lbs. of pet supplies and food to families in need. In addition to the food and pet supplies, there was onsite veterinary care and access to a resource village that help families navigate their future needs. Microchips and Vaccines were give out for free to any resident who pre-registered their animals for the event. The role of animal shelter facilities is changing, and Dorchester Paws is striving to serve not only the animals, but the people that care for these pets as well. This is all tied back to the shelter's new Pet Support Program, which keeps pets out of the shelter and in homes. After seeing an increase in owner surrenders, and general animal admissions, Dorchester Paws created a Self Supported Rehoming program and expanded their pet supply pantry. Through retention and rehoming support, pets can stay in the home, return to home, or find new placement without ever entering the shelter. Veterinarians were on-site administering the following for pets: - Basic Vet Health Exam - Rabies Vaccines - Microchips - DHPP for Dogs (Canine Distemper, Adenovirus CAV-1 and CAV-2, Parvovirus, & Parainfluenza) - FVRCP for Cats (Feline Viral Rhinotracheitis, Calicivirus, & Panleukopenia) Crews Subaru was instrumental in covering the costs of the microchips and vaccines to ensure those in our community got the resources they needed to keep their pet. Crews Subaru also donated t-shirts for our volunteers and staff to wear, so we were safe during this drive through event. Crews Subaru is dedicated to supporting our mission and our community. We are SO grateful for them and Ken French.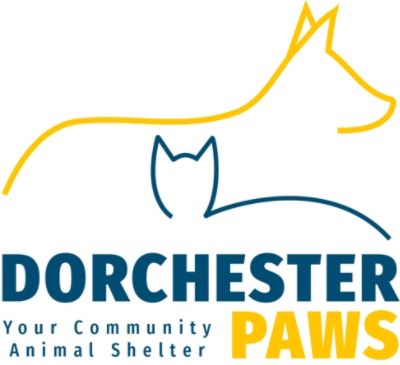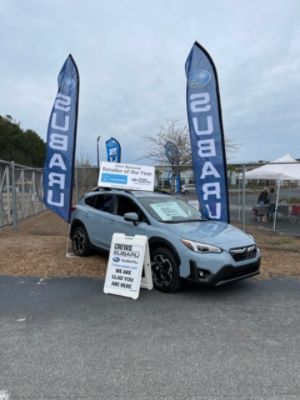 ---
23rd Annual Oyster Roast - Danielle Z
It's a tradition. It's the event of the year that our community looks forward to. It's our largest fundraiser of the year that helps champion 4,000 animals that our small and outdated animal shelter will bring in this year. The event includes all you can eat oysters, a shrimp boil, chili, hot dogs, complimentary beer and wine, desserts from over six local bakeries and so much more! There's live music, a silent auction, a live auction, and games to partake in. We could not uphold our mission and live out our core values daily if it wasn't for the support from our sponsors to make this event happen. With over 800 people in attendance, it's often named the Reader's Choice Event of the Year. We are very grateful for the sponsorship Crews Subaru provided to our shelter. It's because of sponsors, that this event is able to happen. Thank you!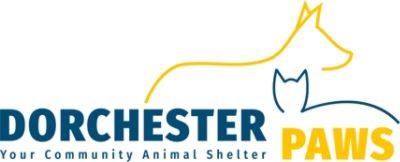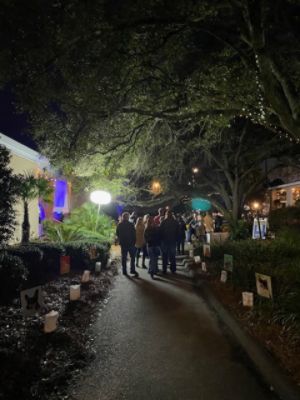 ---
Wishlist Overhaul - Danielle Z
Once again Crews for the win! Dorchester Paws got wind of a donation in Spartanburg that we could pick up but we didn't have the means to pick it up. One phone call to Ken and we had the vehicle! Last week, a volunteer drove six hours round trip, in the vehicle to pick up over 9,600 lbs worth of pet food and supplies. Unfortunately, we didn't realize how big the donation was so some of it was left behind and the other was donated to Spartanburg Humane Society. The donation came back safely. It will help to stock our shelves and most importantly stock our pet food pantry shelves so that MANY in the community will have food and supplies to keep those pet in their homes! It took us a few days to unload and store but the patience from Crews was exceptional. We couldn't help the pets of today and tomorrow if it wasn't for Crews Subaru and Ken French!! Thank you!!!!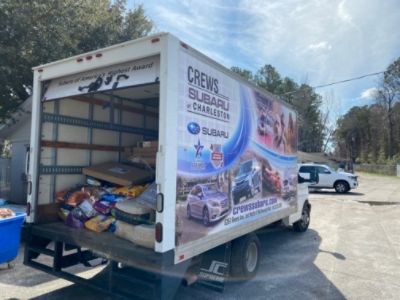 ---
Simple Shout Out - Keri S
I just have to compliment the folks at Crews Subaru for continually being in the forefront of helping our community. On Friday, I heard all about Subaru Loves to Help and how February 17th was Subaru National Random Acts of Kindness Day on my morning TV news and then again on my favorite radio station. Over the weekend, I heard about Vax-A-Palooza and how the Charleston Animal Society vaccinated nearly 1900 pets in one day, and Crews Subaru was there. We took our family to a hockey game on Sunday for Pucks and Paws, and it was sponsored by Crews Subaru, and they had cars on the ice during intermissions. All in one weekend. Kudos to the Crews Subaru team and to Robert Crews for giving back.
---
Committed to Pets - Tom K
Recently, Dorchester Paws held a Community Pet Day and vaccinated and microchipped nearly 300 dogs and cats in just a matter of hours. They also had a huge amount of dog food, cat food, cat letter and more. The whole point was for people to protect their pets and be able to get the food that would keep the pets with their families and out of a shelter. And it was all free and sponsored by Crews Subaru, Bayer and a few others. What a great service to our community. I admit that me and my family needed the help. Our pets are family and now we can feed them properly and not worry as much about their health. Dorchester Paws or Subaru or whoever, I don't know who came up with the idea, but you deserve thanks from a lot of families.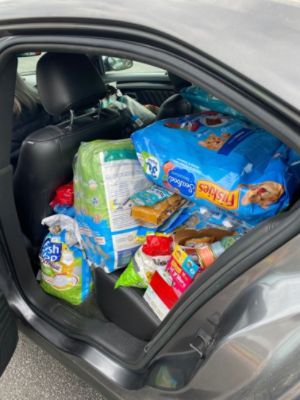 ---
Replenishing our Oyster Beds - Robert G
I feel compelled to bring attention to a local company that never fails to surprise me with all of the local activity they are involved in. The most recent instance for me was at the Low Country Oyster Festival. Crews Subaru was a major sponsor again this year, with cars and flags all over the place - but what caught my attention was their efforts in recycling Oyster Shells from the festival. The Coast Carolina Association works all year to support our habitat and the oyster beds along the coast. That has been a major mission for over 15 years. To have a company like Subaru get involved is refreshing and critical. Ken French was the emcee for the day and kept plugging the fact that recycling needed to be done. They collected at their car display, and some staff helped our team in their efforts of collecting and correctly depositing the shells into our trailers. I've known Ken for years and he is a stellar representative of Robert Crews and the entire Subaru Team. What they do is amazing. I noticed Ken kept saying that Crews Subaru is more than a car company. From my view - he's right.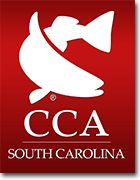 ---
More than a partner - Emily C
For over a decade, Charleston Animal Society has partnered with Crews Subaru of Charleston @crews_subaru and Subaru of America @subaru_usa to support homeless animals in our community! Their support has included being a major sponsor of events, supporting adoptions of #Underdogs, and spay-neuter efforts. Without their support and other community businesses, we could not save as many animals as we do! One of my personal favorite parts of our relationship is we have had the use of a new Subaru Outback for 14 years! We get a new one every two years! That vehicle has transported our team safely to events, conferences, and meetings. It has transported animals in critical condition to emergency care facilities and has transported thousands of animals to events and local TV and radio appearances. We have even transported chickens, goats, and a pig to appearances!!! Crews Subaru, Subaru of America, and their teams are truly lifesavers in our community!
---
Community Blessing - Pam H
The Charleston Basket Brigade would not have been possible for 15 years without the generosity and service of thousands of individuals and organizations throughout the Charleston Tri-County area. Our nonprofit was founded in 2008 by Pam Hartley and Michelle Scarafile, who had a desire to feed families in need at Thanksgiving. Ultimately it became the largest Thanksgiving effort in the Lowcountry thanks to our beloved community and charitable partners. During our 15-year effort, the Charleston Basket Brigade fed more than 260,000 residents in need. In our 15th and final year in 2022, we fed 21,000 people at Thanksgiving with the help of Robert Crews and his Crews Subaru team. Robert Crews has been a huge blessing to us over the years – providing essential recycling bins, business and personal donations, and sending Subaru employees to volunteer year after year. Not only did Robert provide critical connections and resources, but he personally showed up to lend a hand along with his family over the years. He would always say, "Let me know what you need." He and his team are true examples of servant leadership in action in our community. This year, the Subaru team wore "Subaru Loves to Help" t-shirts as they volunteered for set up, assembly and delivery of meals. Crews Subaru has such a giant heart for this community, and I'll always be grateful they graced us with their time and enthusiasm for many years.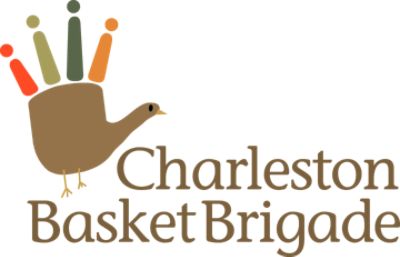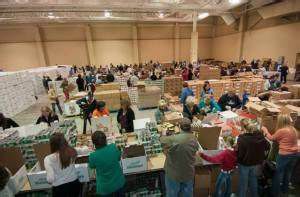 ---
My Mom, at 91 & her Love - Charles F
My dear Mother, at 91, purchased a Subaru two years ago. She has ALWAYS been loyal to another brand. After several members of the family, that own Sub's, and reminded her of the involvement of CREWS Subaru in so many ways, in our community, she finally went to Crews. She was so happy with the way she was treated, what she read about the many many nonprofits that Crews supports year after year. Crew's involvement in the endless support and generous giving is a rarity these days. In my Mom's case, it swayed her to visit Crews. I wish I could recall the salesperson she worked with. I do not personally know Robert Crews, but feel his reach in many events and nonprofit boards. Their heartfelt and empathetic marketing angel, Ken, is the soul of the connection to our community. Subie makes an awesome and very safe product that my Mom is so proud to own; I am proud that Crews' involvement in the community helped move her to finally visit and buy a Subaru.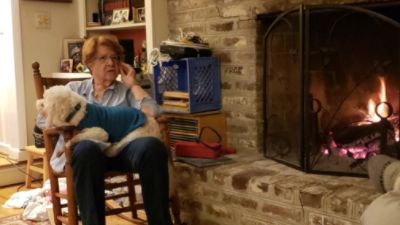 ---