Crews Subaru Loves Supporting Surfers Healing Folly Beach
On August 25th, at Folly Beach Camp, Crews Subaru helped to support Surfers Healing Folly beach. Surfers healing is an organization that aims to enrich the lives of people living with autism by exposing them to the unique experience of surfing. What if riding the waves meant changing the world?
The unbridled joy of an autistic child doing something wonderful on the water. Overcoming fear and anxiety of the unknown. Over 400 campers joined in the fun this year, with 22 professional surfers from around the world, hundreds of volunteers, family, friends and supporters. It is a dehydration day. On the beach, you sweat. When you see the reactions of the kids and the parents, you cry ( and no, it's not sand in your eyes!). The enthusiasm of the surfers, the caring attention form the volunteers and the smiles.
Crews Subaru is a Proud Sponsor of SheTris
On August 21st, at the Malin Plantation Clubhouse in Mt. Pleasant, SheTris hosted their August triathlon event and Crews Subaru was cheering everyone on the whole way. The mission of She Tris is to create a welcoming and supportive triathlon environment for women and girls who want to complete a triathlon, regardless of their level of experience.
For She Tris, the moment a participant crosses the Finish Line is special. This triathlon is not pitting you against others as much as it is pitting you against yourself. To push harder. To set a goal and achieve it. All women. 3 Sports. One Journey.
Crews Subaru and Camping World Partner with the Make a Wish Foundation
Crews Subaru, Camping World and the Make a Wish Foundation of South Carolina got together to help fulfill the wishes of our friend Zakary and his amazing family. Because Zachary has a copromised immune system from his kidney transplant, which his mother Nicole donated, he has been unable to enjoy the experience of camping. Together with camping world and the Make a Wish foundation, we are so blessed to give the gift of hope and support to a family in need.
Crews Subaru Partnership With American Red Cross
The Crews organization has had a strong partnership with the American Red Cross for close to a decade here in the Tri-County Charleston area, regularly stepping up to host blood drives and save lives. Most recently, during the COVID-19 crisis, Crews Subaru stepped up without hesitation, opening up their entire showroom to host blood drives from April through August 2020. Despite this current crisis, the need for blood is constant. 
Subaru Loves To Care
Crews Subaru Leukemia and Lymphoma Society Blanket Delivery to the MUSC Hollings Cancer Center on Thursday July 18th, 2019. This event is part of the Subaru "Loves to Care" campaign. We delivered 180 Blankets and 50 Craft Kits for patients to enjoy and use while in treatment. Participants included LLS of SC team members, Robert Crews (owner) HR Hicks (GM) Crews Subaru team Members and Subaru Ambassador John Blankenship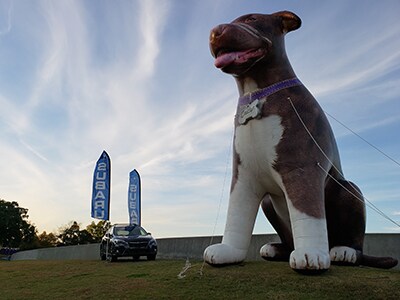 Subaru Share The Love Event
We spotlight an affiliate of national charity ASPCA - our 10 year partner, the Charleston Animal Society.This year, the CAS has a "Pup-Up" shop at Tanger Outlets in North Charleston, with adoptions, supplies and all the things a pet and their Forever Home will need.Crews Subaru supports that effort with sponsorship and a check for the on going need for spay and neuter services offered at low or no fees from local vets.
The MOW Outback - 50th Anniversary Edition
Loaded with food for the pantry! 10 years and counting - our partnership with East Cooper Meals on Wheels.

On December 21st we had seven team members packing meals and making deliveries!

Thank You to Subaru of America for recognizing the work that is done locally and awarding ECMOW one of 50 MOW Outbacks!
Our Local Charity
The Ronald McDonald House of Charleston.In late November Crews Subaru team members went to the house to gather all of the decorations for the interior of the house and get them ready for decorating.
Here At Crews Subaru, Chevrolet & Collision Centers
Our entire Team - Owner, Managers and Team Members, understand that we are blessed to be able to work in the Low Country. We are honored to be able to give back to OUR community. Our Team has been taking care of Low Country auto needs for nearly 30 years. Locally owned and operated, we believe in our community and fellow man. In just the past few years, we have supported, contributed to and otherwise helped many organizations. In no particular order, we have listed these organizations below…
North Charleston Parks & Recreation
SC Stingrays Hockey
Big Brothers / Big Sisters
Surfer's Healing for Autism
Run for Adela 5k on the Beach
LowCountry Goodwill
Trident Literacy Association
Charleston Southern University Athletics
Smart Drive for Teens
GEM - Gallant Evangelic Ministries
Summerville Family YMCA
Low Country Food Bank
Coastal Carolina Corvette Club
Low Country Oyster Festival
Flowertown Festival
Cooper River Bridge Run
Trident Technical College
Taste of Charleston
Arts in the Park
Goose Creek Recreation Department
Youth Endowment for the Arts
Vintage Chevrolet Club of America
Darkness 2 Light
Low Country Beach Sweep
Our Lady of Mercy Outreach
Wando High School Athletics
Pet Helpers
Fischer House
Summerville Meals on Wheels
Goose Creek High School Gators
Dorchestor County Animal Shelter
Sullivan's Island Elementary School
American Lung Association
College of Charleston Cougar Club
American Cancer Society
Sarah Cares LowCountry Book Drive
Hollings Cancer Center
Governor's Cup Surfing Competition
St Jude Hospital
Dorchestor Habitat For Humanity
Carolina Youth Development Center
Safe Kids - Trident Area
CCPRC Dog Parks
Goose Creek Parks & Recreation
Ft Dorchestor High Athletics
SK8 Charleston
North Charleston Business Expo
Coastal Carolina Corvette Club
Dorchestor County Schools
One Eighty Place
Turtle Trek 5K - SC Aquarium
The Citadel Brigadier Foundation
Charleston Moves
Making Strides Against Breast Cancer
Carolina Film Alliance
Ronald McDonald House Charities
Greater Charleston Restaurant Association
Leukemia and Lymphoma Society / SC
Berkeley County Schools
YES Carolina
Daniel Island Park Day
SC Aquarium
March of Dimes Walk for Babies
East Cooper Meals on Wheels
Daniel Island Soccer Academy
T Bones Dinner With Friends
Dragon Boat Charleston
Toys for Tots
Hanahan Little League Baseball
Coastal Carolina Fair
Summerville High School Green Wave
Windwood Farm
Alzheimer's Association
MUSC Children's Hospital
Shriners Hospital
Cooper River Bridge Run
Law Enforcement Torch Run/Special Olympics
Charleston River Dogs Baseball
Berkeley County Habitat for Humanity
Charleston Food & Wine Festival
Summerville Little League
American Red Cross
Stall High School Sports Programs
Southern Red Fish Cup
Project L.O.V.E
Camp Happy Days
Dixie Youth Baseball
Charleston Outdoor Festival
Charleston Animal Society Chili Cook-Off
Making Strides of Charleston
Ocean Conservancy
Trident Tech Spring Spin-Off Car Show
Telluride Mountain Film Festival
West Ashley High School Athletics


You've Got A Friend In The Car Business